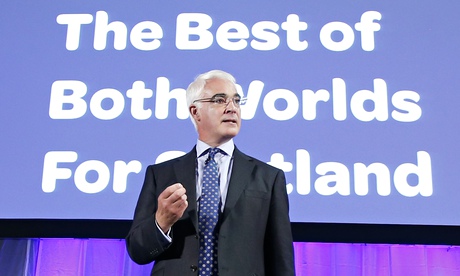 yes Darling but not for England!
Our Press release on the debate which is on iplayer here >>>
http://www.bbc.co.uk/programmes/b04g1w4s
What did you think?
ENGLISH DEMOCRATS' VERDICT ON 2ND SCOTTISH INDEPENDENCE DEBATE - Darling defeated!
Robin Tilbrook, the Chairman of the English Democrats, said:- "Thanks to the BBC, watching this debate was very informative for any Englishman. Seeing Alistair Darling and Alex Salmond debating was often somewhat like watching two Scotsmen arguing about how best to pick English Taxpayers' pockets!" The opportunity to see this debate is bound to pour further fuel on English resentment, particularly with Alistair Darling's cavalier and increasingly desperate (and stuttering) promises to filtch yet more money from English taxpayers in order to bribe Scots to vote NO!"
Robin also said:- "Alex Salmond clearly won this debate for his vision of "Team Scotland" but I expect the effect on many English viewers will be to make even more English people determined to end the unfair Barnett Formula if the Scots vote NO. This would then reduce the British Government spending on the average Scottish family by over £6,000 per year!"
"Even in mid April, when the recent IPPR research was done, 56% of the English already agreed with the statement:- "Levels of public spending in Scotland should be reduced to the levels in the rest of the UK" (click here to see the evidence >>> The English favour a hard line with Scotland – whatever the result of the Independence Referendum - Wales Governance Centre - http://sites.cardiff.ac.uk/wgc/2014/08/20/the-english-favour-a-hard-line-with-scotland-whatever-the-result-of-the-independence-referendum/). Now that figure will be even higher and English people will be even more resolved!"
Robin continued:- "At least however the BBC actually broadcast this debate outside of Scotland unlike the ITV debate which was only broadcast in Scotland! The BBC and Glenn Campbell also did a much better job of hosting and chairing the debate"
Finally Robin stressed:- "The outright abolition of the unfair Barnett Formula is now a near certainty if Scots vote "No". Scotland's voters will therefore shortly be faced with a stark choice between that certainty of a reduction in their living standards or with the uncertainties of being their own masters in an independent country. As an Englishman I am very jealous of their opportunity. If I was faced with that choice I would choose freedom any day! I say that the future of England should also be in the hands of the English Nation"
Robin Tilbrook
Chairman,
The English Democrats