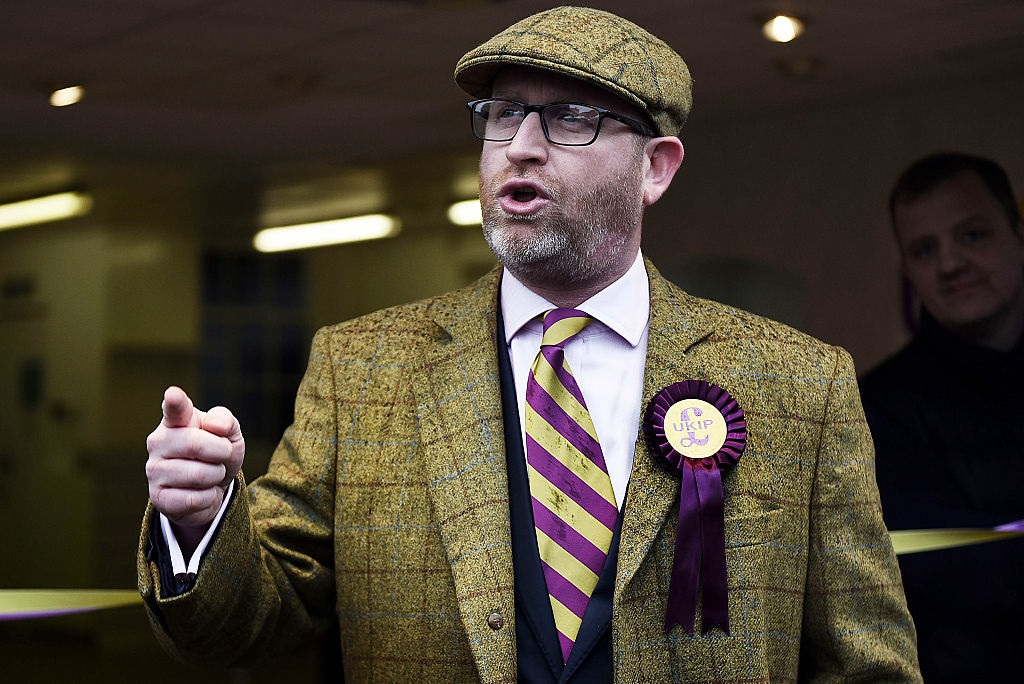 HOPES FOR A UKIP BREAKTHROUGH ON THE 23RD FEBRUARY ARE UTTERLY DASHED

February 23rd 2017 was, accordingly to Katie Hopkins, "The day that UKIP died"! As you can see from her scorching prose on this link >>> KATIE HOPKINS on the day Britain became a one party state | Daily Mail Online

http://www.dailymail.co.uk/news/article-4257106/KATIE-HOPKINS-day-Britain-one-party-state.html#ixzz4ZcY3PVRT


In my view Paul Nuttall started his campaign for the Westminster Parliamentary By-election for Stoke Central (or "Brexit Central" as he unwisely called it), with a positive message about being English and proud of it, but he then did nothing about the English question at all in the election.
Instead he got totally blown off course with a series of controversies over various inaccurate claims. The result was that his campaign was a defensive one. That is the sort of campaign that you can fight if you are the incumbent. However to stand any chance of success as an "insurgent", as Nigel Farage rightly pointed out in the UKIP Spring Conference, a campaign has got to be both positive and edgy!


There also seems to have been a failure to fully analyse both UKIP's and Paul Nuttall's strengths and weaknesses with regards this campaign. There was also a failure to fully understand the Labour opposition. In particular, there was a total failure to understand the role of Labour's various Third Party Campaign front groups (such as the appalling and extremist "Hope Not Hate") and the role that they play, not only in attacking their opponents in a way that doesn't damage their candidate whilst they are doing it, but also it vastly increases the amount that can legally be spent on the campaign by those supporting Labour.


The outcome on the 23rd, on a dismal turnout from the 62,250 constituents of Stoke Central, was that 7,853 voted Labour (as compared with 12,220 who voted Labour in the General Election 2015).


By contrast UKIP only managed 5,233 as opposed to the 7,041 that voted for UKIP in the General Election. This is UKIP at their high watermark with their party just having achieved both a referendum and a Brexit vote and with Article 50 not having yet been activated. In order to win they only needed to have hung on to all those who voted for them in the General Election and gained a mere 813 extra people, out of the 79% that voted for Brexit in the EU referendum.


Instead of which their actual vote dropped by 1,808 votes. This was when UKIP had put up their Leader. No doubt therefore they have also put their organisational and financial best efforts in trying to win the seat. No doubt also UKIP spent the full £100,000 on the campaign that is allowed under electoral law.


On that same day of the result in Stoke, in Copeland, there was a still more dismal result for UKIP in which their vote in the General Election of 6,148 dropped to 2,025, below even the Liberal Democrats!


By contrast Theresa May and the Conservative strategy for these by-elections was completely successful. They have got an extra sensible sounding MP and humiliated Labour in Copeland, further undermining Jeremy Corbyn's standing with the Parliamentary Labour Party.


They have a new Labour MP for Stoke who will be nothing but trouble for Jeremy Corbyn once he is in Parliament, but the result allows Corbyn a life-line so that he continues as Labour's Leader.


The icing on the cake must however be to have lured Paul Nuttall and UKIP onto the rocks. I noticed that Esther McVey was rolled out, when Paul Nuttall was considering whether to stand, to say that she thought that if he stood he would get elected and various other Conservative figures said similar things, thus no doubt encouraging him to follow the rash course of standing.


In doing so Paul had, I think, taken insufficient notice of the fact that the Conservative leadership were aware at least six weeks before of Tristram Hunt's intention to step down. This is because both the Culture Secretary and Theresa May herself were involved in signing off on him being able to take the job at the Victoria and Albert Museum. That six weeks was reportedly used by the Conservatives to leaflet and canvass the constituency unrestrained by any limitation on electoral spending.


No doubt this was done with the clear objective of ensuring that the Conservative vote held up enough to wreck UKIP's chances of winning the seat by taking votes off the Conservatives.


The Conservative leadership has thus achieved the double success, that of seriously damaging both Labour and UKIP and of leaving both of their leaders badly damaged but attempting to struggle on.


A footnote to the campaign in Stoke is that the BNP, which used to have councillors in Stoke and was in contention to win the Elected Mayoralty, only managed 124 votes!