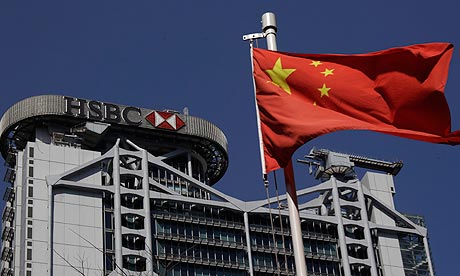 Any English person should take heart from a recent Judgment of Cambridge County Court, the key elements of which I set out below.
If you encounter anti-English discrimination, in any form –
SUE, help the Cause and also make yourself some money!
_____________________________________________________
EXTRACTS FROM THE JUDGMENT
OF HIS HONOUR JUDGE PATRICK MALONEY QC
HANDED DOWN ON THE 2ND NOVEMBER 2010
IN A CASE AGAINST HSBC BANK
_____________________________________________________
1. "Racial grounds (includes) colour, race, nationality and ethnic or national origins. It is not necessary for the purposes of this case to decide into which of these categories the English may fall, because the Bank does not dispute that if it were to discriminate against or harass the Claimants on the ground that they were English, that would be a racial ground."
2. "The Claimants' primary case is that the relevant comparison here must be with a non-English nationalist politician, e.g. a Welsh or Scottish nationalist. If such a person had sought to open a party account, he would have been permitted to do so. The fact that they were not so permitted shows, they say, that it was the word "English" which was the determining factor. That word must have triggered a demeaning racial stereotype of a specifically English nationalist (perhaps a loutish racist skinhead) in the (Bank Manager's) mind, and led him to conclude that association with such people would be harmful to the Bank's reputation."
3. "The Defendants' response is that their decisions in question were based, not on any consideration of the Claimants' English origins or allegiance, but on an assessment of their political views (as the Bank mistakenly understood them to be). The Defendants accepted … that the (English Democrats) Party is not a racist (or for that matter undemocratic...party."
4. "As I have already hinted….above, (any attempt to argue a) sharp distinction between one's race and one's beliefs may be an over-simplification, at least in an unusual case like the present one. A discriminator may say "I am not employing him because I believe he is a racist". Fair enough; but if on further inquiry he goes on to say "I believe he is a racist because he is a white man with an English accent and a St George's flag on his car" then the question of racial grounds is reopened. Put another way, it is as possible to make racist assumptions about other people's opinions as about, for example, their honesty or intelligence, and discrimination on such a basis would appear to be unlawful. Where the opinions in question are or include nationalist ones, that is ones closely linked to the person's own perceived national origins or affiliations, the risk of overlap is particularly great."
5. "The conduct element of (a), discrimination, is admitted, in that the Bank accepts that by refusing to allow the (Second Claimant) to open a bank account it treated him less favourably than others in respect of the provision of facilities or services to the public (RRA 1976, ss. 1 and 20)."
6. On the question of harassment
"As to the (Second Claimant)… He went into the Bank with £5 for what he expected would be a straightforward business transaction. Instead he found that, perfectly politely, he was questioned as to his deeply-held political beliefs, which in the context of a staunch nationalist relate particularly closely to his sense of personal identity and community; and then those beliefs (or rather, a hearsay version of them) were judged in his absence by a stranger, and he was found to be unworthy of the privilege of banking with HSBC. It is clear to me that this was unwanted conduct which had the effect of violating his personal dignity, and that it was reasonable for him to feel "angry, perplexed and demeaned" as he told us he did."
7. "in the case of this or any specifically nationalist political party there is bound to be a close nexus between the members' perceived sense of ethnic or national community and their political views..."
"(The First Claimant's) version is that, when asked why he wouldn't open an account for the Party, (the Bank Manager) replied in the following terms:
a. because you are an English political party;
b. any association between an English political party and HSBC would be detrimental to the Bank;
c. anything English is right wing;
d. anything English is racist;
e. and that, when told action would be taken under the Race Relations Act, he laughed.
(If (the Bank Manager) did indeed say those things, it would of course be very offensive to (the First Claimant) and very strong evidence that (the Bank Manager's) decisions had been improperly influenced by some form of prejudice based on the Claimants' English ethnic or national origins.)"
8. "In this case, however, I am satisfied that (the Bank Manager) did not take racial grounds into account, either directly or indirectly, in reaching his decision to refuse the application for an account."
9. This is not to say that we regard the Bank Manager's conduct as beyond reproach. With hindsight it would have been better for him to make more careful inquiries before reaching his initial decision, rather than simply relying on (the Bank Clerk) Ms Patel's short report; and we hope that a more experienced bank manager would have reconsidered the case, or at least made further inquiries, on being told that the Party was in fact an existing customer of the Bank. After all, there was no urgency to the matter at all. In short, we take the view that (the Second Claimant) was the victim of a degree of unfair discrimination and harassment at the Bank's hands, but not on racial or other prohibited grounds."
10. "It follows that for the reasons set out above the Claimants fail in respect of each of their claims. I am asked, however, to consider the issue of damages in the alternative, that is, on the hypothetical basis that each of the Claimants had succeeded in making out his pleaded case. The relevant head of damages in each case is injury to feelings. We were taken to the leading cases of Vento v. Chief Constable of West Yorkshire [2002] EWCA (Civ) 1871 and DaBell v. NSPCC [2010] IRLR 19. These establish three bands, which are, in decreasing order of gravity:
a. the most serious cases: £18,000 to £30,000;
b. serious cases falling below the highest band: £6,000 to £18,000:
c. less serious cases:£500 to £6,000.
Mr Tilbrook accepted that this was not a top-band case but sought to persuade us that it was in the middle band. I bear in mind that, if the Claimants had succeeded, we would be dealing with an unpleasant example of racial discrimination and harassment by a multi-national company of enormous size, and that (the First Claimant) would have been subjected to some extraordinary and offensive remarks. However, I also bear in mind that this was a single short-lived incident, and that (the First Claimant)( in particular is a resilient person who was quick to take advantage of the situation. Both Claimants undoubtedly suffered real anger, distress and humiliation from the incident, but quickly recovered without lasting ill effects. After consulting my experienced colleagues, I have concluded that an important consideration here would have been to award such a sum as clearly declared that they had been the victims of a serious incident, but did not unfairly overcompensate them, and I would (on this hypothesis) have awarded them a total of £1,000 each in respect of all their claims."
If you think you may have experienced Anti-English discrimination,
for advice contact
either >>> http://www.englishlobby.net/ (if your case is general)
Or
>>> http://www.workersofengland.co.uk/ (if your case is an employee one)